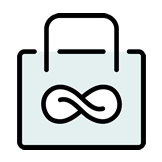 DURING THE WEEKEND OF NOVEMBER THE 6TH AND 7TH, YOU WILL BE ABLE TO ATTEND ONLINE TALKS AND YOUTUBE LIVE STREAM, FREE AND WITHOUT REGISTRATION. TAKE NOTE OF THE SCHEDULE IN YOUR AGENDA SO YOU WON'T MISS THEM!
SCHEDULE AVAILABLE FROM SEPTEMBER
The online talks are free and will be streamed live on the Barcelona Knits YouTube channel during the weekend of November 6-7 at the scheduled times. 
Subscribe to our channel to receive notifications every time a talk starts during the weekend of 6-7 and Nov. So you won't miss a single one!
If any of the talks coincide with a workshop, don't worry: the Barcelona Knits 2021 activities will be recorded on our YouTube channel so you can watch them whenever you want.