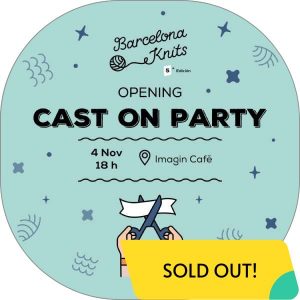 cast on party barcelona knits 2022
We invite you to join the Cast On Party, the big party that will mark the beginning of a weekend of reunions, hugs, lots of emotions and lots of wool. Point 0 of Barcelona Knits 2022.
Reserve the afternoon of Friday 4 November for an unforgettable event. Together we will knit the first stitches of this edition's pattern, the Veritas shaw Veritas,, while Antonio from @beagle.knits, reveals the key points of the design between stitch and stitch.
When and where?
Friday, 4 November, from 6 to 8 pm at ImaginCafé (C. de Pelai, 11, 08001 Barcelona) in the centre of Barcelona.
What exactly does the Cast On Party consist of?
It is neither a workshop nor a KAL. It is an informal talk about the Veritas pattern. Come and knit the first stitches of the shawl while Antonio explains his creative process and other knitting curiosities and anecdotes.
An inaugural session to start warming up the needles, meet again after so long and welcome the 5th edition of Barcelona Knits the way we like it, with the needles.
Do I have to sign up?
Yes, it's free, but you have to book a place. Capacity is limited, so sign up as soon as possible!
Do I need material?
Pack your project bag and sharpen your needles for a Cast On Party in style. 
All you need is some fingering yarn, some needles and the desire to have a good time – it will be the starting point of the wool party!