We propose you a fantastic plan in your Barcelona Knits adventure. Come to the auditorium and, in a moment, you will be able to try this season's Rowan yarns. We are sure you will be surprised.
Maybe you already know Felted Tweed, but did you know that Rowan has 81 mohair colours? Kidsilk Haze is one of its most emblematic yarns and it is no less than 20 years old.
Don't miss the Rowan tasting, you'll love it.
This activity is free, but you have to book a place. Capacity is limited, so sign up as soon as possible!
If you can't attend the fair because you're far away or it coincides with a workshop, don't worry. All the talks at Barcelona Knits 2022 will be broadcast live on our YouTube channel and will be recorded so you can watch them whenever you want.
Saturday, 5/11, from 13:30 to 14:30 h in the Conference Room
Language: Spanish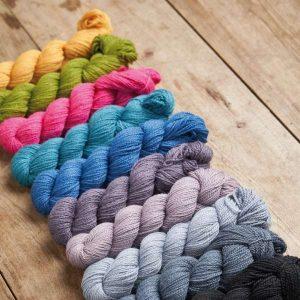 This lecture is free of charge, but seating is limited.