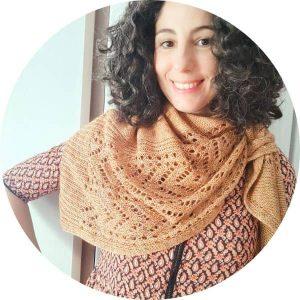 Date: Sunday, 19/11
Time: 15:30 h to 16:30 h
Language: Spanish
A talk to deepen about creativity in knitting. To be able to design or knit with ease and without fear, what to consider with fibers, constructions, textures… What can work and what not when making your version of a design such as material, colors and sizes?
Sign up to have a good time with Marianela's talk, to dare to make your doubts and suggestions known.
BIO:
Marianela @marianelagalo is a knitting fashion designer, passionate about two needles. Her main goal is to give her patterns an interesting knitting and make them an adventure. She is able to transport you to different places through your needles by means of some very marked inspirations.
She studied chemistry and was a science teacher for 15 years, helping hundreds of children to overcome difficulties with math. Always with knitting in mind, after the birth of her second child, she decided to open her You Tube channel "Knit es tejer". In this way, since 2017 she has forged her professional career as a designer and pattern maker.