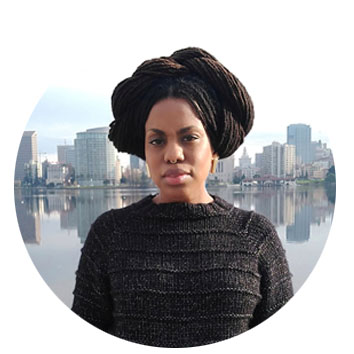 This designer and pattern maker's work encompasses a variety of textile techniques and also includes knitting, sewing, crochet and macramé. Her creations have been widely recognised and she has been featured in and collaborated with publications and brands such as Nordstom, New York Magazine, Martha Stewart, Better Homes and Gardens, etc. As an Afro-Latina, Denise strives to make the slow fashion industry a more inclusive space through representation and education. She travels to give public talks and teach classes in conjunction with Vogue Knitting and Soul Craft Festival.
Denise designs modern garments that are practical, minimal and often geometric. After 15 years working as an executive in the fast fashion industry in New York, she turned to patternmaking as a way to reconcile her love of fashion with a desire to live more sustainably. Making a wardrobe by hand allows for more sustainable materials and control over the waste produced in the process. Through pattern design, Denise hopes to equip begginer knitters and seamstresses with the tools, knowledge and autonomy to create the handmade wardrobe of their dreams.
Workshops by Denise Bayron
How do the online workshops and lectures work?
Barcelona Knits 2021 has a programme of workshops and online talks on stocking stitch and crochet given by renowned national and international designers and influencers in the world of wool.

From the end of September, you will be able to consult the online workshop programme and the panel of workshop leaders and book your place.

We will use Zoom as a platform for the virtual classes. You will only need a computer or a mobile device with a camera and microphone. We recommend that you check the quality of your connection, the timetable, the language of the workshop, the level and the previous knowledge you need.

Once the workshop has started, you will no longer be able to access it. For this reason, it is best to connect 10 minutes before and make sure that the link is working properly.


How can I attend one or more workshops?
Barcelona Knits has a programme of crochet and stocking stitch workshops given by renowned national and international designers. To participate in one or more workshops, you can consult the class programme and workshop facilitators and purchase your ticket in advance online.
We recommend that you check the quality of your connection, the schedules, the language in which they are taught, the level and the previous knowledge you need.
We recommend you to connect 15 minutes in advance to check access to the online class platform, as you will not be able to access the workshop once it has started.
IF YOU HAVE ANY QUESTIONS, PLEASE CONSULT OUR FAQ SECTION: