Let's talk about yarns with Chris Berlin. By Pascuali
Chris Berlin will talk about yarns and their possible combinations and, as yarns always have something to do with tactile and sensory properties, he will bring samples to feel and touch.
What fibres and yarn combinations are in fashion, how to knit two yarns of different types of wool together, how to achieve lightness, softness or strength in my fabrics, and much more. All this and much more.
This activity is free, but you have to book a place. Capacity is limited, so sign up as soon as possible!
If you can't attend the fair because you're far away or it coincides with a workshop, don't worry. All the talks at Barcelona Knits 2022 will be broadcast live on our YouTube channel and will be recorded so you can watch them whenever you want.
ChrisBerlin
She has been designing knitwear since 2017. Her designs show a clear and modern line with small details. The interplay between the material, i.e. the yarns, and the finished design is particularly close to her heart. For this reason, she is very intensively involved with yarns, their properties and colours.
All of Chris' patterns are available in English. 
The pattern for the Girlfriends Cardigan and the Kolding is also available in Spanish.
Saturday, 5/11, from 10:30 a.m. to 11:30 a.m. in the conference room
Language: English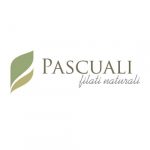 This lecture is free of charge, but seating is limited.