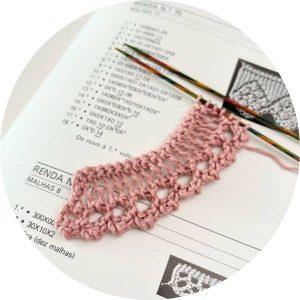 Date: Saturday, 18/11
Time: 17 h to 18 h
Language: Spanish
By Filipa Carneiro @filipa_nionoi
Sponsored by Rosários4
Rosários4 will feature Filipa Carneiro for another edition. On this occasion she will talk about "rendas por música", which translates as "knitting lace by music". This traditional Portuguese technique of lace with openwork stitches uses symbols to represent loops and decreases. And, instead of reading the instructions, the stitches are sung! 
For this workshop, you only need to know how to knit right sides together, make loops and knit 2 stitches together. It's much simpler than traditional openwork and is sure to surprise you. 
 To practice this technique, we will weave a bracelet with a very simple and easy to memorize pattern, let the music guide you! You'll take home a bracelet and a song as a souvenir.
Material needed: a 3 or 3.5 mm needle