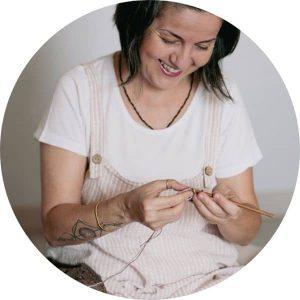 Date: Saturday, 18/11
Tine: 13:30 h to 14:30 h
Language: Spanish
Knitting is a relaxing practice and more and more people practice it for the well-being it brings them. Did you know that neuroscience is discovering that knitting prevents diseases such as Alzheimer's?
If you want to know how to strengthen your mind while knitting and prevent anxiety, depression and have mental health, in this talk you can learn many curiosities. Don't forget to bring your ball of yarn and your needles or whatever you are knitting. When you listen to Karina, you will discover that knitting is more than just creating beautiful garments.
BIO
Karina Morales is a Master in Mindfulness in health and research contexts by the Complutense University, certified yoga teacher, instructor of the mindfulness-based stress reduction program and qualified in Psychophysical Naturopathy.
She has been knitting since she was twelve years old and for her it is more than a hobby, it is a passion and a life mission. She calls crochet "active meditation" and is looking forward to being in Barcelona Knits to explain how to put into practice all her knowledge on the subject.