Textile Garden is the haberdashery with which all weavers have dreamed. Eleven years ago, Maggie opened her store in Steyning (England) and, at that time, she become a reference in both the textile and wool fairs of her country.
Her passion for accessories and her long experience in the industry make Maggie have a close relationship with all her suppliers and also know all the needs of her loyal customers and friends. She tries to go a step further, and to surprise them with new designs and high quality, personalized pieces.
She loves to visit the factories to make sure that the production of her material is in the best hands. The artisans behind each phase of the process are the guarantee of her articles.
In the Textile Garden catalog you will find an extensive assortment of buttons, clasps, buckles, brooches, ribbons and laces to give a luxurious look to your work. You will fall in love with them!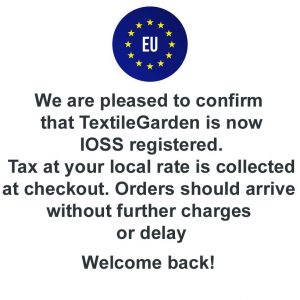 IF YOU HAVE ANY QUESTIONS, PLEASE CONSULT OUR FAQ SECTION: