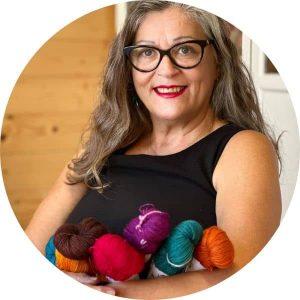 Date: Saturday, 18/11
Time: 18:30 h to 19:30 h
Language: Spanish
What is the real world of a dyer like? What are the ins and outs of this profession? 
In this talk you will learn firsthand how the brand Greta & The Fibers was born, grew and developed from the hand of Marga, its creator. 
Warning if knitting is your thing: It's probably not the romantic vision you have about the world of dyeing. What is certain is that you will discover the magic of the world of color. 
Marga will explain Greta's creative process, the importance of having an open mind, the necessary technical knowledge and the organization of the work required to be able to apply it to your future projects.
She will also tell us about the resources available to you to make the best use of color in your designs and needlework, how to create combinations that you would never have thought of and that will make your fabrics as unique as her famous colored wools.
 BIO
Greta and the Fibers (2010-2022) is a brand of hand-dyed wool by Marga, with workshop/showroom in L'Ametlla del Mar (Tarragona). Marga retired last year and her last fair was the 5th edition of Barcelona Knits. Now, she is back with the new edition to share her knowledge as a dyer.