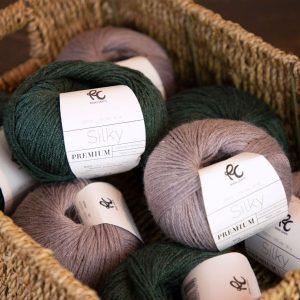 The combination of wool, silk and polyamide offers a soft yet hard-wearing quality, ideal for everyday use. Fine yet warm, this is a silky, lightweight wool with a harmonious colour palette.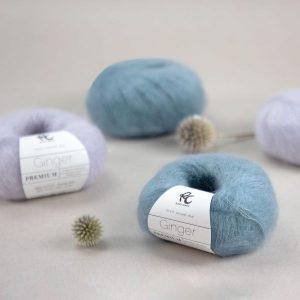 A fluffy quality that combines Super Kid Mohair with Silk to offer an ultra-soft, ultra-lightweight, hardwearing and elegant yarn. Knitted, Ginger creates a subtle and delicate effect, ideal for sophisticated winter wear.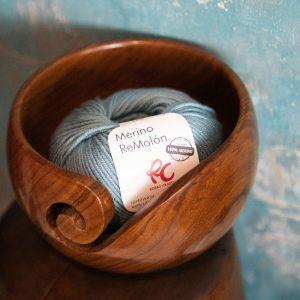 100% merino wool with Superwash treatment; a classic essential for every knitting lover. The possibility to wash it in the washing machine makes this quality, besides being warm and comfortable, very practical to knit clothes for daily use.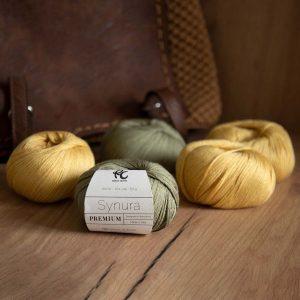 An exclusive yarn made from bamboo viscose and Seacell viscose, two eco-friendly fibres that provide the ideal quality for sensitive skin.
Seacell is a fibre derived from seaweed, whose properties are maintained even after washing thanks to closed-loop production and which does not release chemical residues. It is also a hypoallergenic, antibacterial and fungicidal yarn, which does not cause reactions and is ideal for atopic skin. Moreover, it is biodegradable, and its production process is 100% ecological. As a result of the textile processing of Seacell, we obtain a yarn that is very soft to the touch, which results in breathable fabrics.
On the other hand, bamboo viscose is obtained from the pulp of the bamboo cane, as part of a totally natural and ecological process, as it does not require fertilisers or pesticides. Among its characteristics, it should be noted that bamboo viscose offers a super soft feel, absorbs moisture and is antibacterial.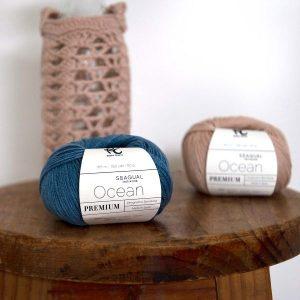 Ocean is a very special quality, obtained by mixing organic cotton with Seaqual, a polyester obtained from plastic waste removed from our seas and oceans; every year, 8 million tons of plastic end up in our seas and oceans, polluting and contributing to the deterioration of marine ecosystems. The Seaqual initiative collects this waste, transforms it into PET, and from this material we manufacture a polyester thread which, mixed with cotton, makes our Ocean a truly special quality.
The sustainable origin of this quality contrasts with its ultra-soft feel, very different from that of other recycled yarns. Its range of colours, inspired by the marine ecosystem, evokes from the blues and greens of the surface to the tans of the sand, the yellow of the sun or the corals at the bottom.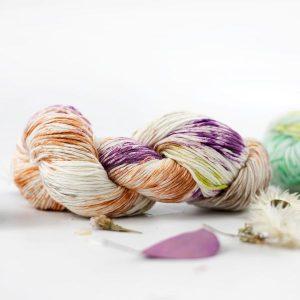 A completely unique yarn, as its semi-crafted pattern is different in each skein. It is a 100% high quality, combed, long staple cotton, perfect to combine with other prints or to contrast with plain colours.
WORKSHOPS SPONSORED BY Rosas crafts
Date: Saturday, 5th November
Time: 9:00 h – 12:00 h
Classroom: Merino
Workshop facilitator: Alimaravillas
Technique: Crochet
Level: All levels
Language: Spanish
Places: 15
Date: Sunday, 6th November
Time: 13:00 h – 16:00 h
Classroom: Merino
Workshop facilitator: Alimaravillas
Technique: Crochet
Level: All levels
Language: Spanish
Places: 15
Rosas Crafts is much more than a brand of wool. Its creative universe goes through different spaces and characters, to transfer its philosophy from the balls and skeins to your hands. A philosophy based on recovering tradition, dedication and the value of handmade products, with passion, innovating in both substance and form.
From the involvement and social commitment, this young and innovative brand distinguishes in each new collection a line of Premium qualities, whose skeins have specific qualities both for its composition and for the concept.
Rosas Crafts claims the care of the environment through sustainable production and respect for raw materials, as well as the various social causes that affect us daily. Don't miss any detail and rediscover the art of weaving with Rosas Crafts.